Electric Car Home Chargers
See our selection of car home chargers
Powerwise Electrical are fully registered and insured Electric Car Home Charger providers and installers. Having installed many car home charger units since Electric Vehicles (EV's) have come on the market we can offer you an efficient affordable service. We can also advice you on how to claim the new SEAI grant of up to €600 on a charger and install costs. 
The cost of labour is €375.00 Ex. VAT and includes routine fit out of up to 8 metres from the fuse board.
See our range of electric car home chargers below and the cost and features of each. Remember may be eligible for a grant up to €600 off your charger and install total.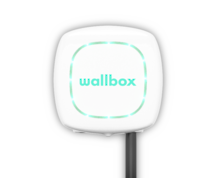 Wallbox Pulsar is a revolutionary smart charging system for electric vehicles, equipped with the latest technology and a compact and sophisticated design to deliver the best performance in the daily life of individuals and companies. WallBox Pulsar is designed with Bluetooth smart connectivity that allow to get data on-the-go when you approach the charger. Features such as charging activation, energy consumption monitoring, charger and house energy reporting, automatic software updates, etc make the WallBox Pulsar the smallest and smartest connected charger on the market.
When ordering the Tethered Wallbox Pulsar you choose between the following options and extras…
1. Type: It comes tethered with Type 1 and Type 2 leads…
Type 1: Suited to charging Citroën, Chevrolet, Ford, Kia, Mitsubishi, Nissan, Opel, Peugeot and Toyota cars
Type 2: Suited to charging Audi, BMW, BYD, Hyundai, Mercedes-Benz, Renault, Smart, Tesla, Volkswagen and Volvo models
2. Amps – The 16A (3.6Kw) unit will charge the average car in approx. 8 hours. The 32A (7.2Kw) unit will charge a car in approx. 4 hours. To install a 32A (7.2Kw) unit, if you have a power shower or a heavy load on your existing power supply, you will need to install a priority switchover – our electrician can provide this at an additional cost of €200.
Wallbox Pulsar is the most compact design on the market, delivering the maximum domestic power. WallBox Pulsar is designed with Bluetooth smart connectivity that allows to get data on-the-go when you approach the charger. Features such as charging activation, energy consumption monitoring, charger and house energy reporting, automatic software updates, etc… make the WallBox Pulsar the smallest and smarterst connected charger on the market.
Pulsar is universal. Compatible with any vehicle and electrical installation.

Comfort is important. The Pulsar comes with a connector support included.

Local lock/unlock.

Control your energy consumption.

Thanks to the Bluetooth connection, the Pulsar offers the possibility to have a charger with communication without necessity of Wifi, Ethernet or 3G.
Easy to install, easy to use, easy to enjoy.

The most compact design on the market with the maximum efficiency. Very small, very effective.

Scheduling of the charging sesions. Allows to charge when the energy costs are the lowest.

Manual power adjustment from the App.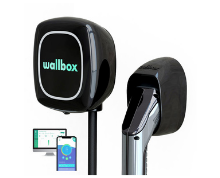 Wallbox Pulsar Plus is a practical, intelligent charging system for electric vehicles and plug-in hybrids, which connects to the myWallbox charging management platform using Wi-Fi or Bluetooth. The Pulsar Plus comes with the addition of integrated DC leakage protection as standard. Pulsar Plus is compact, at just 16 cm square, and features the most advanced technology to provide maximum charging performance. Pulsar Plus easily adapts to any installation, in private garages or shared parking.

Key Features 
• Always connected via Wi-Fi or Bluetooth.
• Compact design.
• Optimize your charging infrastructure and reduce charging times
with Power Boost technology.
• Integrated charging status lights.
• Integrated DC leakage protection.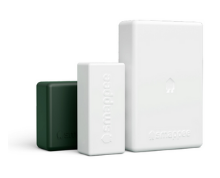 EVBox
Smart Charging
Makes the most efficient use of the available power capacity by safely balancing the energy usage between your electric car charging station and other appliances on-site. Enables your EV charging to become more self-sufficient and eco-friendly by integrating with your solar installation.* Gives you full control over your energy usage by providing real-time data on your EV charging and solar production.* 
Dynamic load balancing
Integrated with solar
Peak shaving
Universally compatible
Easy installation
Easy to upgrade
CE- and UL-certified
Award-winning design
Control with mobile app
Remote software updates
Always online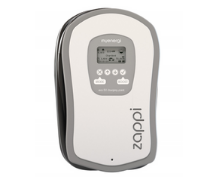 Zappi is a smart EV charger with a difference. Not only does it operate as standard for electric car charging, it has optional charging modes to utilise 100% GREEN energy generated from your Solar PV or wind generation.  Increasing the Return On Investment (ROI) for your panels and electric car, the zappi is easy to install and user friendly.
3 charging modes (Fast, Eco and Eco+)
OLEV approved
Solar PV/wind turbine not required – can still be used like a standard charge point
Boost function – keeps the battery at a minimum charge level
Economy Tariff sensing to maximise savings
6A to 32A variable charging
Integral RCD for earth leakage protection
IP65 rated enclosure suitable for outdoors
Energy data logging
Graphical back-lit LCD screen for ease of use
5 metre, 32A rated cable with Type 1 or Type 2 charge plug
Adjustable charge current limit – allows installation with smaller circuit breakers (e.g. 16A)
Adjustable import power limit – The maximum import limit can be set to limit power drawn by the house when charging
In-line mounting holes for easy fixing to brick or timber stud walls
Through-wall or surface mount cable entry options for easy wiring
3-year warranty
Dimensions: 362 x 220 x 78mm
Charging Mode: Mode 3 (AC)
Maximum Charge Current: 32A (7kW)
Supply: 90-256V 16A or 32A 50/60Hz
Compliance: BS 8300:2009+A1:2010, BS EN 61851, BS EN 62196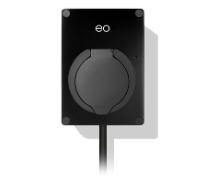 The world's smallest smart electric vehicle  charger. Designed for the space (and energy) conscious EV driver.
+ Simple electrical installation, Integral 6mA DC leakage detection, no Type B RCD required,  Adjustable maximum charging current for lower-rated supplies, Integrated Load Management 
(Optional extras)
Solar matching functionality, + 3-year product warranty with options to extend, Controlled by EO Smart Home app on iPhone or Android.

+ The world's smallest smart charger:  

175mm x 125mm x 125mm. 

+ Universal socket or Tethered. 

+ Power Ratings: Single Phase up to 7.2kW. 

+ Available in four colours:  

Black, White, Silver & EO Blue.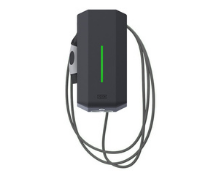 Wall charger for charging at Work or Home. All GLB chargers are prepared for dynamic load balancing. With Garo's GLB Charger, a hybrid EV can be fully charged in around 3 hours, and a pure electric EV in around 6 hours. A unique Dynamic Load Balancing function ensures that the installation's main protective device is safeguarded by the EV charging station. As the power demands of your electricity system alter the charger will respond accordingly, telling the EV to reduce or stop charging when power usage is high in your system, and to increase when your overall electricity has reduced.
An input for low tariff or night rate charging allows the user to plug their car in at any time, but charging will only take place at times that are specified by the user, such as low tariff / night rates.
Wifi allows the user to monitor the charger from their computer/smart phone. The user can set up multiple parameters for charging, billing etc. Software updates are automatically distributed.
RFID access control makes the EV charger more secure. Any user must have an RFID tag to activate the charger. This feature can be incorporated with the billing system.
Cloud-Based Billing Solutions with the option to install up to 32 x chargers under the control of one master charger.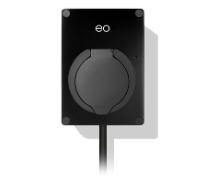 From 3.7 to 22 kW
Tracks and invoices charging sessions
Easy to use, install, and upgrade with modular, click-on features
Compatible with every electric car—now and in the future
Realtime insights and full control
Reimbursement of charging costs
Load balancing
Plug and charge (Autostart
Durable
Easy installation with the EVBox Connect app
Dynamic load balancing compatibility
Our team can also carry out periodic inspections where required, (insurance reasons etc.)
Call us today on
087 2430171.
We will assure you receive a competitive quotation, with great value for money on a quality service.
We are available from 8am – 10pm daily
Contact Us Today for a Free Quote